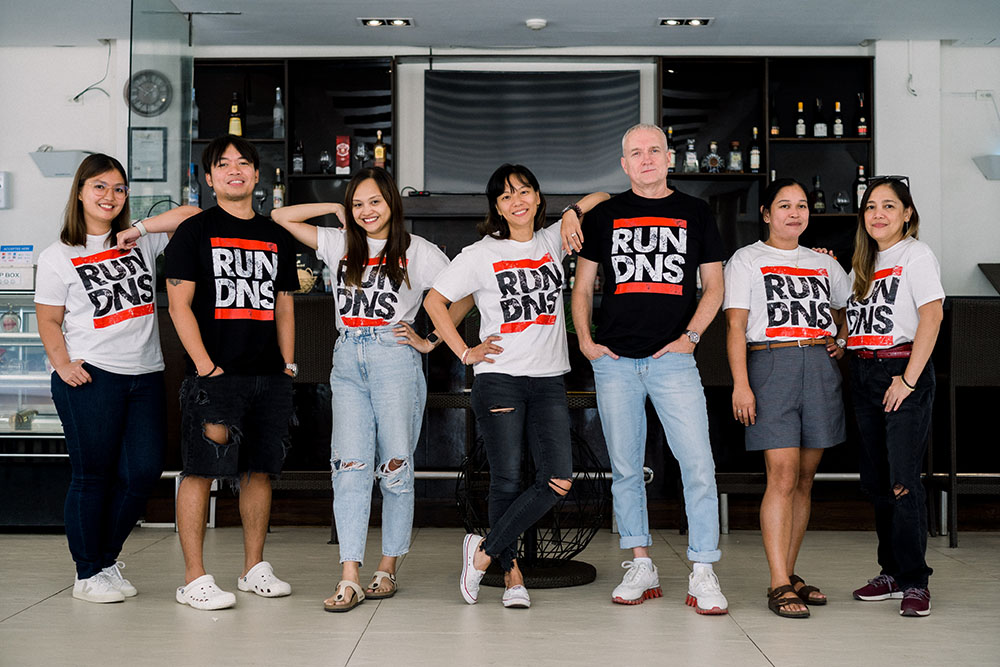 Last August 2023, DysrupIT got certified as a Great Place To Work®, further cementing the company's commitment to creating an exceptional workplace for our valued family members.
As a family-run organisation specialising in cloud and Resource-as-a-Service solutions, DysrupIT is immensely proud of this distinction. Within less than a decade of operation, the company earned the Great Place To Work® certification, demonstrating that it has successfully realised its long-held vision of providing a happy, healthy, engaging, inclusive, and empowering workplace for the DysrupIT family.
Andrew McCarroll, DysrupIT's Chief Executive Officer, proudly states, "This accomplishment reflects the dedication of our outstanding teams, validating our company's capabilities and reaffirming our market reputation as a trusted and respected player. The certification has far-reaching benefits, producing a win-win scenario where happy team members deliver exceptional results, benefiting all stakeholders. We are fully committed to replicating and surpassing this success in the future."
How We Got Certified – The Process

The Great Place To Work® Certification acknowledges employers who excel in providing an exceptional employee experience. Achieving this requires a two-step process. The initial step involves soliciting employee feedback through a confidential and anonymous survey, allowing them to respond truthfully. The survey ran for two weeks and garnered a 94% employee participation rate. Meanwhile, the second step entails completing a brief questionnaire about the workforce. Since the certification scores come from employee feedback and independent analysis, the Great Place To Work® certification is a valuable tool for job seekers to identify companies that foster a great company culture.
The Results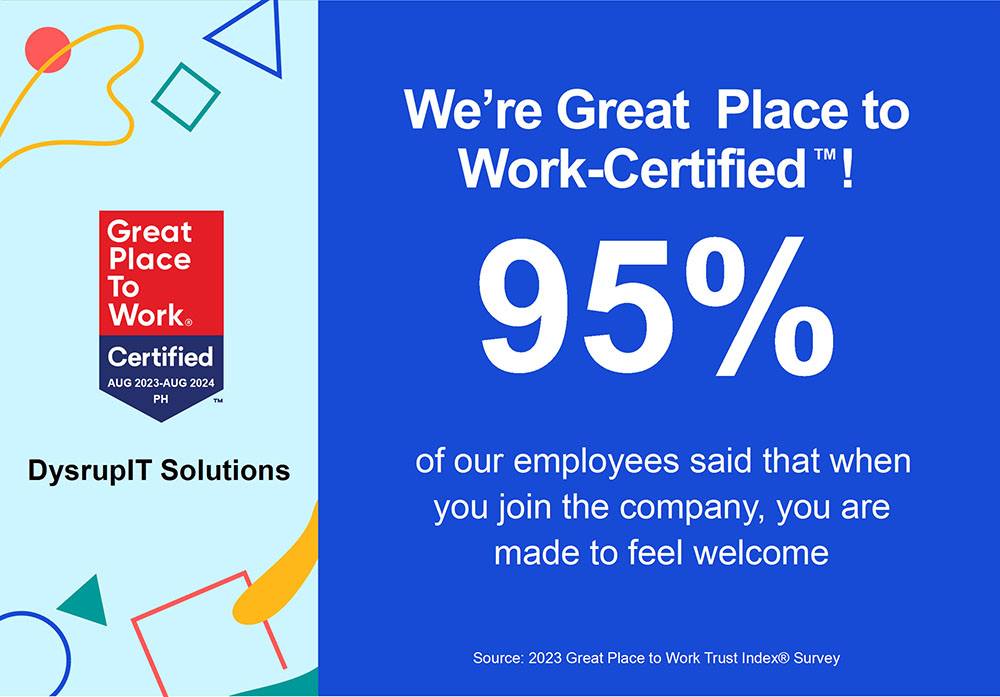 Great Place To Work® delivered the overwhelmingly positive results days after the survey's conclusion. DysrupIT takes great pride in offering its employees a Work from Anywhere (WFA) setup, emphasising a healthy work-life balance. The management team, although optimistic about their vision, was pleasantly surprised by the resounding affirmation from their employees.
DysrupIT achieved an impressive score of 87%, surpassing the certification threshold of 65%. Employees ranked Corporate Image and Community the highest, earning a score of 90%. These results should come as no surprise since DysrupIT employees appreciate the company for:
Fostering a healthy work-life balance.
Demonstrating a commitment to inclusivity, where everyone is treated fairly, regardless of gender or sexual orientation.
Trusting their employees to do good work without constant supervision.
Making significant contributions to the community.
These findings instil a profound sense of value and belonging among the DysrupIT team. When the Management trusts the employees to perform their roles without micromanagement, it empowers and motivates the people to strive for excellence and deliver exceptional results.
Advantages of a Great Place To Work® Certification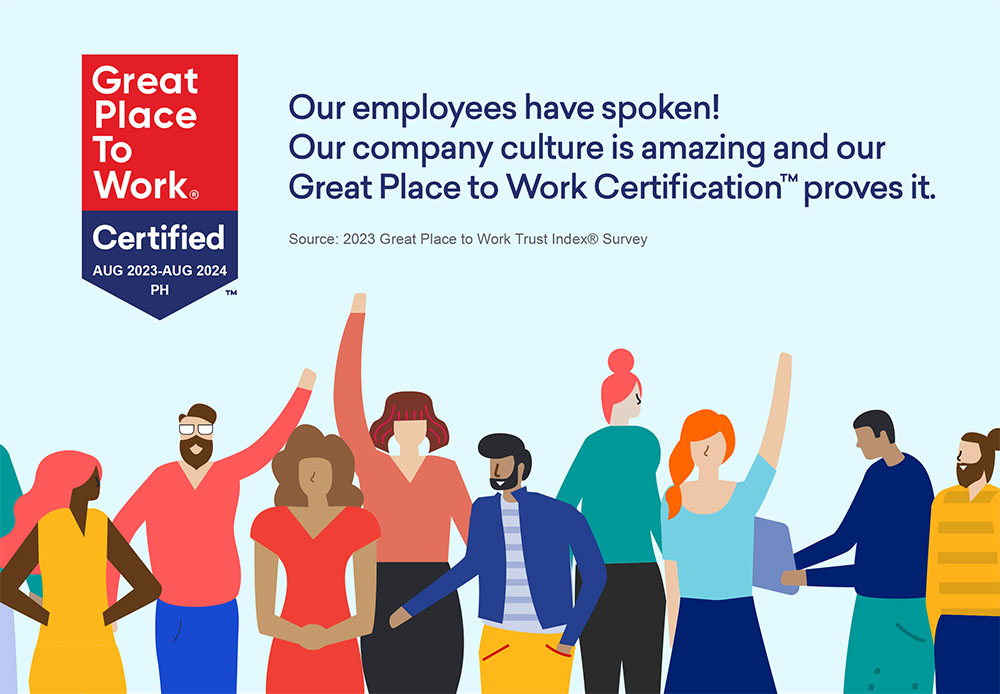 DysrupIT and other companies certified as a Great Place To Work® enjoy several benefits following its recognition.
First, the certification boosts the company's appeal to top talent, resulting in higher chances of candidates accepting job offers. Secondly, a certified positive workplace culture increases business profitability, as happy and satisfied employees are more productive, innovative, and committed, positively improving their performance.
Third, a company certified as a Great Place To Work® improves employee trust, which fosters communication, loyalty, and community. And since people feel a sense of belonging, the positive work environment and culture will encourage employees to stay.
Moreover, stakeholders reap benefits when companies get certified as a Great Place To Work®. DysrupIT's certification further strengthens customer trust, as clients prefer to work with businesses that treat their employees well.
More importantly, stakeholders benefit from improved product and service offerings because a happy and motivated workforce consistently delivers better outputs.
Collectively, these advantages contribute to a more positive and impactful relationship among the company, its employees, and its stakeholders. As McCarroll aptly said, "It's a win-win scenario."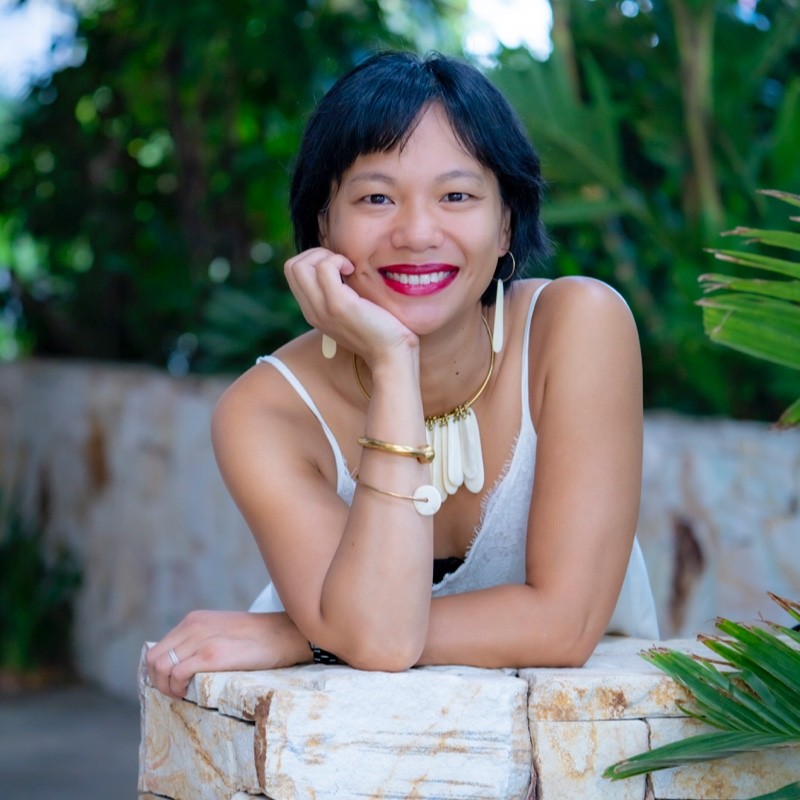 With an impressive professional background in cybersecurity, Elizabeth has held key executive positions throughout Asia-Pacific and Japan. Her extensive experience has played a pivotal role in the exceptional growth and success of DysrupIT. Her invaluable expertise has transformed the company into a thriving multi-million-dollar global enterprise.
https://dysrupit.com/wp-content/uploads/2023/11/great-place-to-work-dysrupIT.jpg
667
1000
Elizabeth Hermosura
https://dysrupit.com/wp-content/uploads/2021/11/dysrup-it-logo.png
Elizabeth Hermosura
2023-11-06 15:08:22
2023-11-06 16:55:51
Celebrating Workplace Excellence: DysrupIT's Great Place To Work® Journey